Welcome to Transnational Sociology Program at Hitotsubashi!
Transnational sociology is a new paradigm which analyzes cross-border processes and structures that are producing the great social transformations that we observe today. This new sociological approach attempts to go beyond the analytical unit of nation-state that the discipline of sociology has long taken for granted. But transnational sociology also values empirical studies which probe concrete social relations. This is a significant feature of sociology, which has distinguished it from related disciplines such as international politics or international relations.
In Japan, transnational sociology has steadily developed over the past twenty years. Hitotsubashi University pioneered in this domain, when in 1993 it established a new graduate program of transnational sociology by inviting Takamichi Kajita (1947-2006), a front-runner of the approach, as its inaugurating professor at the Graduate School of Social Sciences. Thanks to his pioneering efforts, many students have graduated the program over the subsequent decade and a half.
With two full time professors starting in 2001, our program has expanded and developed. It presently has over 20 graduate school students enrolled. These include many students who have graduated from other universities in diverse disciplinary backgrounds. Our program plays an important role by laying the foundation for innovative research and education in the broader field of transnational studies in Japan. Students coming from countries such as the Philippines, Korea, Brazil and China among others have also joined our program and are contributing their own point of views on transnational processes. We encourage our students to learn from diverse values and viewpoints from outside their home environment, to pursue fieldwork study so that they comprehend transnational social processes not only at the theoretical level but also at the level of concrete social practices, and to work side-by-side with their international colleagues.
The goal of our program at Hitotsubashi is to envision and develop a transnational sociology that can enhance our capability to act as well as to analytically understand our ever more globalizing world.
Tokyo, March 2009
Akihiro Koido, Ruri Ito
Transnational Sociology Program Graduate School of Social Sciences
Hitotsubashi University
2-1 Naka Kunitachi
Tokyo, 186-8601 Japan
Phone: +81-(0)42-580-8803
e-mail: trans_soci AT soc.hit-u.ac.jp
International Symposium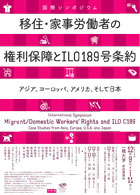 Date:December 10 (Sat) – 11 (Sun), 2016
Venue:Hitotsubashi University, Tokyo
    Room 2201, East Lecture Building 2,
    Kunitachi East Campus
 *Japanese-English simultaneous translation provided
Over five years have passed since the adoption of ILO Convention on the Decent Work for Domestic Workers (C189) and its Recommendation (R201). Establishing international labor standards for domestic workers for the first time in history, C189 has important impacts on the (re)organizing of domestic workers in different parts of the world. It opens up a new stage in the protection of their rights at national, international and transnational levels.
  This symposium is part of a JSPS research project by a group of scholars, mostly based in Japan, interested in grasping the diverse effects and potentials of C189 for migrant domestic workers' labor and living situations in Asia, Europe, U.S.A and Japan.
The symposium will start with a keynote by Professor Eileen Boris, a renowned historian of women's labor movement, on the historical significance of C189. The symposium will, then, pursue two objectives. First, based on our respective fieldwork, it aims to discuss the conditions of migrant domestic workers' rights and status in related regions with a comparative perspective. Second, given the Japanese government's recent scheme for introducing migrant domestic workers' in the two National Strategic Special Zones, an unprecedented program for Japan, we wish to provide a forum, in which overseas and local activists will come together to exchange their experiences of organizing migrant/domestic workers.
  It is our hope that the two-day discussions will help advance our understanding on the stakes and challenges of this new migrant labor scheme, officially intended to promote Japanese women's increased participation in the labor market, and raise public consciousness on the rights of domestic workers, both local and migrant.
Contact:m.yoshitoshi(AT)r.hit-u.ac.jp
   The symposium ended in a success. Thank you.
Organized by JSPS Kakenhi Project "Migrant Domestic Workers and ILO Convention No.189",
        Research Collective "International Migration and Gender"
With the support of: Graduate School of Social Sciences, Hitotsubashi University (Transnational Sociology Program,
        Center for Gender Research and Social Sciences, Research and Education Center for Fair Labor),
        International Domestic Workers Federation (IDWF), Solidarity Network with Migrants Japan,
         Asia-Japan Women's Resource Center, Network for Paid Domestic Work
In cooperation with: Japanese Trade Union Confederation (Rengo), ILO Office in Japan
© 2009 Transnational Sociology Program Graduate School of Social Sciences Hitotsubashi University